I see bankruptcy ahead. I see a man once nestled in a comfy life of shabby gentility, his aristocratic mustache and goatee twisted by despair and poverty, hurling himself from a window, his elbow-patched mustard-and-green sports coat flapping madly in the wind. It's me.
I don't want to wallow in self-pity, but I'm the only member of our family who properly values frugality.
I was reminded anew of that fact last week when my son called to say that he and a friend were pitting their fathers against each other in a tightwad contest and I was way ahead. He seemed more amused than proud, as though the game had all the dignity of, say, a flatulence competition.
It had started, he said, when he told his friend that I used to embarrass my family by pulling our 1966 GMC Handivan up to the truck pumps where the gasoline was two cents a gallon cheaper.
"We can't get gas from truck pumps," my wife would tell me. "This is a passenger vehicle."
"This is a GMC," I'd say yet one more time. "There is no car called a GMC. Only trucks are called GMCs. Ergo, this is a truck and no matter how many passengers it carries, it's entitled to cheap gas from truck pumps."
"We're about to get arrested," my daughter would explain to her brother.
Personally, I don't see that as a story about tightwaddedness. It's about the American Way. Buy low, sell high. Two pennies saved are two pennies earned.
So my son's friend told about his father going to a fund-raiser concert where he was asked for a donation at the door. He refused, arguing that a donation is by definition money freely given, not money exchanged for goods or services. They didn't let him in. But it's something to think about.
My son came back with the story of my new Rockport shoes that make me walk funny because they're too small. They didn't have my size on the sale table—$90 shoes for $35—but who could pass up a bargain like that? When my kids snickered, I said I walked funny all the way to the bank to deposit the $55 I saved.
They traded more stories: his father doesn't eat at any restaurant without two-for-one coupons; I once got the family a free meal by crashing an employee party in a new Denny's that wouldn't be open to the public until next day.
Then he scored big: his father saved old bubble gum on the grounds that after a week it regained its flavor. I personally don't believe in the resurrection of bubble gum flavor. But still it's something to think about.
My son's retaliation was massive: he remembered the Dental Floss Incident.
It starts when my dental hygienist scolds me for not flossing.
"The floss gets stuck in my teeth," I tell her. "It looks like spinach."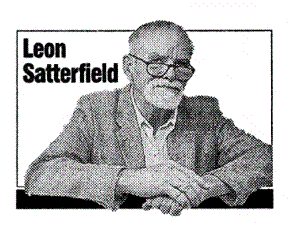 The Truth, Mainly
"Get better floss," she says. "Cheap floss sticks in your teeth. Try this."
She gives me some space-age teflon-coated floss. It works so well that after it's gone I go looking for more.
And I find out what it costs: $3.99 for 54.7 yards. The house brand I usually buy is only $2.99 for 200 yards. Lots of people see those prices and think the good stuff is only a dollar more than the cheap stuff. They don't do the math.
I do the math. The house brand is 1.5 cents a yard; the good stuff is 7.2 cents a yard. Nearly five times as much.
My first impulse is to buy the house brand, but I remember it looks like spinach stuck in my teeth. I buy the good stuff and think of ways to recoup.
I could floss only once every five days and break even. But my dental hygienist intimidates me.
I could use two-inch lengths instead of ten-inch lengths. But I can't wrap two-inch lengths around my fingers to get the required leverage.
Then I hit on the solution: I could use each piece of floss five times instead of one time. We don't throw away our toothbrushes after one use, do we?
And the teflon coating makes the new stuff nearly indestructible. I could probably use it 10 times, 20 times, but I just want to stay even, not get ahead.
So I keep my used floss under my electric shaver in the vanity drawer where my wife won't find it—at least, not until we have a birthday party for our grandson and she's looking for a match to light the candles. She makes what for her is a horrifying discovery.
"Why," she asks, dangling the evidence in front of kids, grandkids, and in-laws, "is there used dental floss under your electric shaver in the vanity drawer?"
"Hah?" I say.
"You save old dental floss?" my daughter-in-law politely asks.
"He re-uses it!" my daughter shouts. "The poor old booger re-uses his dental floss!"
"Great move!" my son says, bursting into applause.
"Someday you'll all understand," I say, looking around for an open window to hurl myself from. "Someday all this will be yours."
Lincoln English Professor Satterfield writes to salvage clarity from his confusion. His column appears on alternate Mondays.