And I thought God had retired from football after the 1997 Nebraska-Missouri game.
That's the one, you remember, where God goosed Matt Davison into making a miraculous catch off Shevin Wiggins' leg in the end zone with no time on the clock. With that kind of help, Nebraska, of course, won the game.
Missourians thought the catch possibly involved Satan-worship, but many Nebraskans saw it as prima facie evidence of Divine Intervention.
One Cornhusker player said the Lord was "watching over" the team. A coach said "I do not believe in luck but in a sovereign God."
God hadn't manifested Himself on the playing field lately and I figured He'd probably retired at about the same time Tom Osborne called it quits.
But last week, there He was, strapping on His pads for the St. Louis Rams in their Super Bowl game against the Tennessee Titans-the Titans having had the bad judgment to name themselves after some pagan Greek gods.
It was a game fraught with Divine Manifestations.
The Rams were ahead 16-0 before the Titans made a hell-raising comeback to tie the game 16-16 with 2:12 to play. Then the Rams' quarterback, Kurt Warner, lofted a heavenly spiral to Isaac Bruce for a 73-yard touchdown.
But God wasn't through messing with the Titans. Just for the hell of it, He allowed them to get to the Rams' one-yard line as time ran out.
Why, you ask, do I assume that all this is God's work? Why can't I just accept the fact that the Rams are naturally, not supernaturally, one touchdown better than the Titans?
It's because I listen to what the Rams players say.
"With the Lord," Kurt Warner says, "all things are possible. I believe in him. I believe in myself. With the two of us together, there's nothing I feel we can't accomplish."
It's hard to argue against his notion that he and God are in cahoots on the gridiron. It wasn't long ago that Warner was stocking toilet paper shelves in a Hy-Vee. He played college football at Northern Iowa, got cut by the Packers, couldn't get on in the Canadian Football League, played arena football for a while, then went to Europe to quarterback the Amsterdam team. He came back to a job as second-string quarterback for the Rams, and got his big break last summer when God let the first-string quarterback get hurt.
With that background, what Warner did during the 1999-2000 season is, in Walt Whitman's words, "miracle enough to stagger sextillions of infidels"-if the infidels happen to be football fans. Warner led a team that had won only nine games in two previous seasons to a 13-3 record. He became only the second NFL player to pass for 40 touchdowns. He was the NFL Most Valuable Player and Player of the Year, and he set a new Super Bowl passing record.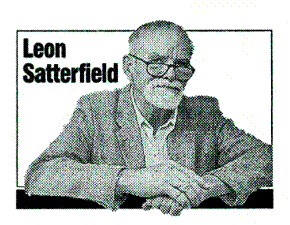 The Truth, Mainly
Then there's Isaac Bruce, the guy who caught the 73-yard pass that won the game. He and Warner study the Bible together and he's so accustomed to Divine Intervention that he got written up in Sports Illustrated last month.
When he has leg cramps, he told SI, he doesn't go to the trainer. He asks family members to pray away his cramps-and they do.
In December, Bruce and his girlfriend, neither wearing seatbelts, blew out a tire on his Mercedes. He took his hands off the steering wheel and yelled "Jesus!" The car flipped twice and landed right side up in the ditch. No serious injuries.
"When I got out of the car," Bruce said, "a short stocky guy with long hair appeared out of nowhere and asked 'Do you want me to call an ambulance?'"
When firefighters showed up, "I mentioned that someone had called for an ambulance, but they didn't know what I was talking about, and the stocky guy was nowhere to be found."
"I'm thinking," he told SI, "the guy was an angel."
So when Kurt Warner, in partnership with God, throws a pass to Isaac Bruce, who's protected by angels, I don't even want to think about what might happen to anyone who'd try to knock it down.
And that leads me to a question:
Isn't there something wrong with letting one team have Omniscience and Omnipotence on its side?
We disqualify horses and Olympic athletes who get out-of-body help. Is it fair to let Warner and Bruce use their Divine Connections to humiliate others?
I'm not suggesting we deny their constitutional right to their own religion, but I would suggest this: Let's put all the dirty rotten secular humanist players in one league and all those who've signed up for Divine Aid in another-with no inter-league play.
That would be fair, wouldn't it? It would protect dirty rotten secular humanist teams from being mugged by those tapping into a Greater Power.
And think how exciting it would be to watch two of God's teams-full of the ferocious piety that grows out of Gott-mit-uns certitude-pounding the bejesus out of each other.
Lincoln English Professor Satterfield writes to salvage clarity from his confusion. His column appears on alternate Mondays.